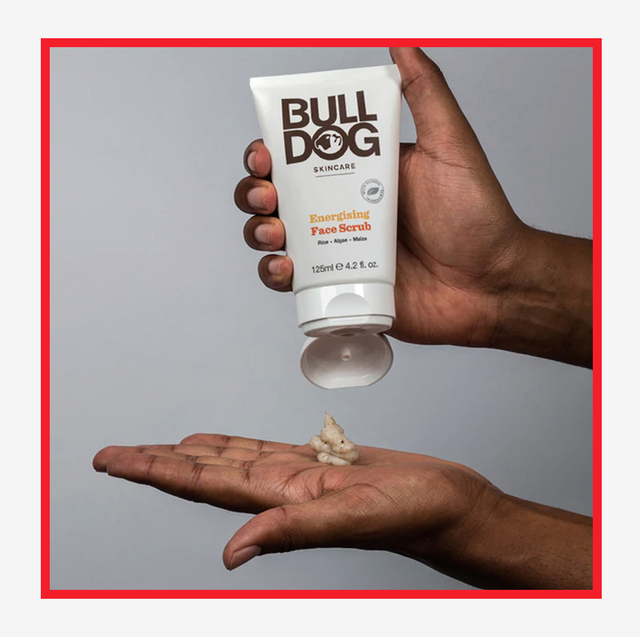 Courtesy of Retailer
Even the toughest man on earth doesn't like the feeling of dry, rough skin. If you've ever washed your face only for it to feel dry and scale-y a few minutes later, you could use a face scrub. Bumps, flakes, pits, and rough patches are all signs of an uneven skin texture, which can make you feel and look a little worse for the wear. Acne scarring, enlarged pores, and the typical aging process are all to blame for a bumpy skin texture. Underneath that rough exterior is a soft, smooth skin texture just waiting to be revealed.
A good face scrub works on the surface of the skin to sand down those rough patches and get rid of any dead skin cells that are overstaying their welcome. A face scrub isn't something you need to use everyday, although there are plenty of options on the market that are gentle enough to use every day. Your skin cells are constantly turning over (every 28-40 days, on average), pushing those dead skin cells to the surface and replacing them with younger cells, which help promote a brighter and more youthful complexion. There's quite literally a younger, better-looking you hiding just beneath the top layer of your skin. Freaky and fascinating.
Read more: Best Grooming Products for Men
Best Overall
Energizing Face Scrub
Minimal irritation
Natural ingredients
The Energizing Face Scrub from Bull Dog was a 2022 Men's Health Grooming Award Winner, so naturally, it's at the top of our list as one of the best facial scrubs. Ground coconut shells, rice, algae and maize come together in this deep-cleaning formula to help remove dead skin cells gently yet effectively. The refreshing scent of citrus, ginger and lime leaves your skin feeling revitalized and invigorated once the scrub is fully washed away.
Best Face Scrub for Dry Skin
The UnScrub Gentle Cleansing Scrub
Improves skin texture
Good for dark circles
Facial scrubs help to remove dead skin cells and surface debris like dirt and oil from the top layer of skin, which may sound aggressive and like it should be painful, but not with this scrub. This cleanser/scrub combo has an almost milky texture and is made with pressure-sensitive, environmentally friendly jojoba beads that naturally dissolve as you cleanse, revealing a smooth, radiant complexion—without redness or irritation.

Active ingredients: Jojoba esters, chamomile, and green tea.
Best Chemical Exfoliant
Daily Microfoliant Exfoliator
Activates with water
Gentle enough for daily use
Generally speaking, chemical exfoliants are a better option for those with sensitive skin, as the acids in the formulation deliver a more gentle and controlled exfoliation. This daily exfoliator uses visibly brightening enzymes to gently buff away dead skin cells while smoothing the overall texture and clearing clogged pores.

Active ingredients: Rice bran, salicylic acid, white tea, and licorice.
Read more: Best Anti-Aging Products for Men
Best Face Scrub for Combination Skin
Ultra-Fine Scrub
Chemical and physical exfoliant
Contains antioxidants
Exfoliating 2-3 times per week can help to improve the appearance of rough texture, fade discoloration, and reduce ingrown hairs caused by dead skin cells. We love this one because it has ulta-fine exfoliating particles, which aid in preventing irritation or micro-tears on the skin's delicate surface.
Active ingredients: Glycerin, perlite, and thermal spring water
Best Affordable Face Scrub
Exfoliating Face Wash
Ideal for sensitive skin
Cleanses without stripping the skin
Not for acne-prone skin types
If you have sensitive skin, you may stay away from face scrubs due to their reputation for being rough on the skin. Fear no more, for this scrub was made with you in mind. This cream face scrub is gentle enough to use every day, thanks to the addition of a few key moisturizing ingredients including glycerin and vitamin E.

Active ingredients: Glycerin and niacinamide
Read more: Best Face Wash
Best for Oily and Acne-Prone Skin
Sebium Exfoliating Gel
Good for all skin types
Balances excess oil production
If you have oily skin, a face scrub should be an essential step in your skincare routine to help regulate your overactive sebum glands and clear out clogged pores. Using a powerful combination of glycolic and salicylic acid, this exfoliating gel gently cleanses and purifies the skin and limits sebum secretion, thus keeping your breakouts in check.
Active ingredients: Glycolic and salicylic acid, laminaria and vitamin E
Best Natural Face Scrub
Exfoliating Face Scrub
Non-irritating
Deeply exfoliating
This all-natural, vegan face scrub targets multiple skin concerns in just one step. It gently removes dead skin cells that trap bacteria and sebum in the outermost layer of your skin, which are the cause of breakouts, oily skin, blackheads, and more. Plus, it works at the cellular level to the unclogs pores for that refreshing, deep-clean feeling that is always so incredibly satisfying.
Active ingredients: Pomegranate enzymes, aloe vera, and burdock root
Best Face Scrub For Men Over 30
The Method: Polish Facial Exfoliator
Leaves skin feeling super soft
Refreshing lavender scent
After the age of 30, skin cell turnover starts to slows down, which is why it's super important for men over 30 to have a solid skincare routine in place even before that age to prevent premature aging. A daily exfoliator, like this one from Lancer Skincare, helps support your skin's natural regenerative cycle, encouraging cell turnover and natural collagen regeneration for visibly younger-looking skin.
Active ingredients: Pumpkin enzyme, pomegranate enzyme, chamomile oil and bisabolol, and salicylic acid.
Best Morning Face Scrub
Facial Fuel Energizing Scrub
Invigorating scent
Softens rough facial hair
There's nothing like an invigorating face scrub to get you up and ready to take on the day. This one from one our favorite skincare brands Kiehl's contains a blend of energizing ingredients including caffeine and menthol to help jumpstart your day and put your best face forward.
Active ingredients: Caffeine, menthol, vitamin E and citrus extracts
Best Face Scrub For Dry Skin
Positively Radiant Skin Brightening Exfoliating Daily Facial Scrub
Affordable
Gentle enough for sensitive skin
Dry skin needs exfoliation, however some face scrubs are too harsh for dry skin types, and can leave behind redness and inflammation. Not with this one. It's packed with soothing prebiotic oat, jojoba and castor oils to give you smoother, more even-toned skin.
Active ingredients: Prebiotic oat, feverfew, and soy
Best Pre-Shave Treatment
Face Buff Energizing Scrub
Evens out tone
Great to use before shaving for a closer shave
You might be wondering at what point in your skincare and/or shaving routine should you use a face scrub? This scrub from Jack Black actually fits into both, acting as both a scrub and a pre-shave treatment to remove oil, dirt, and dead skin cells from the path for your blade. This leads to a closer, cleaner shave and smooth, non-irritated skin post-razor. Use it after washing your face and before moisturizer.
Active ingredients: Bamboo extract, mint, licorice extract, and vitamin C
For the past two years, we consulted with Men's Health's Grooming editors and writers on the top face scrubs for men. Experts including our Grooming Editor Garrett Munce and Senior Commerce Editor Christian Gollayan have tried dozens of face scrubs and evaluated them for their effectiveness, texture, and level of exfoliation. We also considered top-reviewed face scrubs that had at least 100 five-star customer ratings on e-commerce websites that we trust.
There are two types of exfoliation when it comes to your face: physical and chemical. A physical exfoliant uses small beads (usually made from plant-based ingredients) to remove dead skin cells, while a chemical exfoliant relies on acids (salicylic, lactic, AHA/BHA, etc.) to break up the bonds that keep dead cells attached to your skin's surface. Contrary to what you might believe, chemical exfoliants are typically more gentle on the skin than physical exfoliants, which require more friction from rubbing to get that smooth surface.
If you find that physical exfoliants are too rough on your face, don't throw it out–use it on your body to get rid of any dry, scale-y texture.People with dry skin might want to look for face scrub that has more of a creamy texture and contains moisturizing oils. This will help soften your dry skin as it removes those dead skin cells, reducing dryness. Oily skin could benefit from a combination of physical and chemical exfoliants, which work at the surface of the skin while also unclog pores.
This content is created and maintained by a third party, and imported onto this page to help users provide their email addresses. You may be able to find more information about this and similar content at piano.io
---
Reader's opinions
---